What's more boring and tired than a salesperson giving you a plain business card or some uninspiring pamphlet you're never going to read?
Do these ever make you want to call that salesperson back? Probably not. They need to give you a reason to remember them if they ever want to hear from you again.
As The Kinks said, "Give the people what they want."
So when Kidwell came to us looking for a leave-behind that sales reps could use to gain meetings with prospects, we wanted to provide a fresh, creative twist. They wanted sales leads to know they're ready to meet with them at all hours of the day…and night.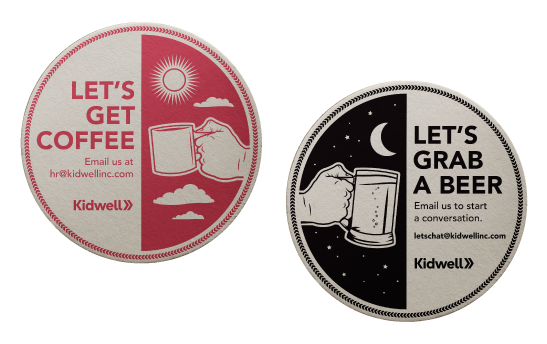 Creativity Above All
The coaster design is simple and the message certainly isn't groundbreaking, but it's emblematic of the PLAY Creative approach to projects: Creativity above all.
We could have created the best pamphlet or business card possible, but we'd rather take an existing idea and improve it conceptually with some creative, out-of-the-box thinking.
The coasters check all the boxes of something functional that you'd leave behind to set a meeting, but they're unique enough for an added layer of memorability. When "Creative" is literally in your name, you have to go against the grain.