There aren't too many people who wouldn't want to build their own dream car—and then be able to drive away in it. As part of an annual promotional campaign for Credit Union of America (CUA), we were asked to create awareness and generate some serious buzz for their Dream It Drive It Giveaway.
The giveaway, running from June 1 – August 31, 2015, is an opportunity for customers to go online, build their dream car—up to $50,000 in value—and visit a branch to enter for a chance to win the real deal. The promotion is also offering up low auto loan rates, making this campaign a win-win for customers.
Like any well-built car, we wanted to give people the chance to see, touch and interact with the campaign. The most dynamic element is a desk topper for CUA staff members. Placing this multi-fold piece on their desk is creating a focal point for customers and helping to spark conversation about the promotion. Each "side" of the desk topper reveals a car sketch – then a designed vehicle, supported by copy about the promotion. By moving around the desk topper or handling it themselves, customers can engage with the campaign on a deeper level.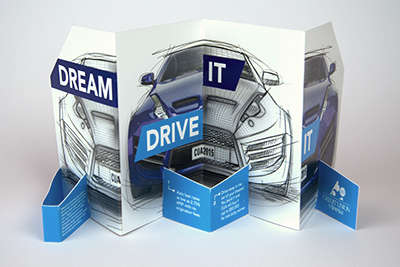 Further supporting the CUA Dream It Drive It Giveaway campaign, we created a teller card that features a perforated strip. This simple yet highly interactive print piece allows customers to pick up, tear open and read its contents. Like the desk topper, it creates a positive brand experience for CUA with its audience.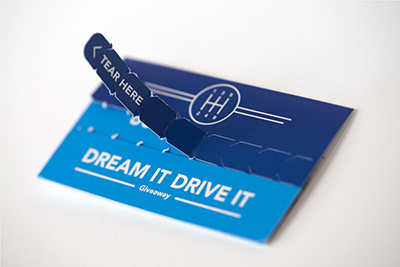 Additional components of the Dream It Drive It Giveaway include: radio, print ads, digital billboards, in-branch posters, teller envelopes, drive-thru banners, postcards, and web banners. Members also enter to win via in-branch iPad displays, driving further interaction with CUA staff to sell auto loans. Each component works well with the next to build awareness for CUA and drive customers to ask questions, go online to build their dream car and visit a CUA branch to enter to win.
Overall, the Dream It Drive It Giveaway created an opportunity for our team to help CUA build brand awareness and boost engagement with its audience. Dynamic hands-on materials combined with more traditional media add value to the campaign and further support its success. At only 15 days into the promotion, CUA had reached 16% of their overall goal for the promotion.
We may not be driving away in a new car, but we enjoy helping our clients get results!